Many people may be surprised to find that the look of an office has a significant impact on the work being done there. The fact of the matter is that it isn't just purely aesthetic.
The right design has the capability to improve the productivity and efficiency of any business. Apart from that, it can also attract new customers and staff to join your team.
No matter how you've designed your business facility, time withers all. With each passing year, every business needs to reevaluate the design of the facility and change it up in order to give it a refreshed look.
Fortunately, Restore with Design is here to help you do just that; to restore a refreshed look to your business and give it a nice refreshed look. Let's go over some tips that you can follow.
Tips for a Refreshed Office Look
Make Space
The very first tip we have for giving your business facility a refreshed look is simply by making space.
Many facilities these days have many pieces of equipment lying around or have terrible office layouts. These things leave very little space to move around and even breathe. This is the first step to a refreshed office look.
The modern office space is a roomy one that allows for people to talk to one another comfortably. In order to do this – yes, you guessed it – you need space to make it work. With enough space, people can talk about better ideas to reach their goals and even share their problems with one another.
One of the first things to do is to reconfigure the office layouts and ensure that there is ample space all around. Apart from that though, you can also try and utilize glass partitions to maximize your space.
Using glass partitions is a fast way to change the layout, while also saving you money.
Declutter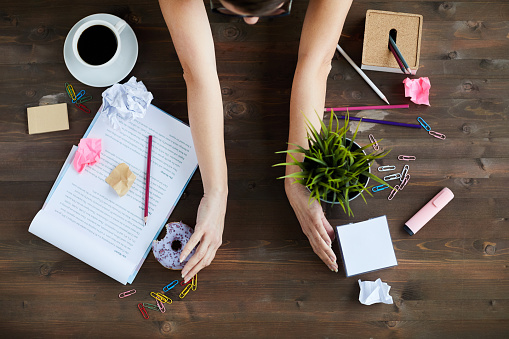 The next thing you need to do after creating space is by looking at the many different areas in your business facility. Look at the things that have amassed over the months or years. Look at what people are keeping on their desks and in their areas.
In many ways, decluttering is an often simple way of introducing that refreshing look we've been talking about. You can do it as a team activity or get professionals to do the job. The benefit of having professionals on the job is that if there are critters or bugs involved, they can handle that too.
Once all the areas have been cleaned and decluttered, not only will your space look more refreshed, your staff will definitely feel that way as well.
Introduce Green Plants
Another great tip for you is to introduce some green into your office. Studies have proven that when people are feeling stressed out, it benefits their moods, productivity, and even their motivation immensely when they head out and spend some time in the environment.
The same thing can be said if there are plants in the office. The explanation here is that the plants can offer a literal breath of fresh air with the oxygen they provide. It also cleanses the air around.
Another benefit of placing plants around the office is that the green color is a nice refreshing look to the people's eyes. It adds a nature element and a touch of life to a corporate office space.
Introduce Colors
Jumping off from the previous post, why stop at just adding green to the business facility? There are so many palettes of colors to choose from! Introduce more color into your office and watch it come to life.
There are many ways to introduce different colors into your office space. For one, you can try and hang some artworks or paintings on the walls. Another way is to incorporate the colors into the many pieces of furniture strewn about the office. A colorful couch can also do wonders for the culture and motivation of the people who work there.
It doesn't have to be a management decision alone. The employees can do their part as well if you encourage them to design their workspaces with colorful items.
Refreshing Lights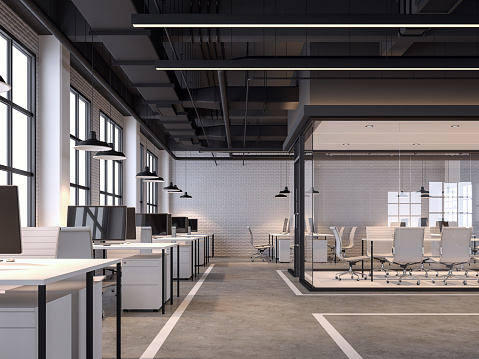 The final tip we have for you is in the light. In all actuality, it is light. Lights can do many great things for an office space. Keeping an office correctly lit goes a long way to refreshing the overall look and feel of your facility.
If after everything we have spoken about, the office still feels a bit down, chances are that it is missing light in some key areas. This is quickly remedied with some lamps and even some quick changes to the light bulbs.
If your office has windows though, it is much better to let in some natural light to brighten up the place.
A well-lit office can introduce a cheery and relaxed atmosphere that can also reduce stress levels.
Refresh your Business Facility
It may seem like a lot of work, but you should know by now how a business facility's look and feel can affect your people's productivity. If the office feels drab, then most likely the employees will also feel down, demotivated with work not living up to the efficiency and quality that it should.
These simple tips still require great effort and commitment. However, you will soon know that the benefits will outweigh the costs.
If after all of these changes you are still not feeling refreshed, we have one tip left for you. If you want an easy way to feel refreshed when you walk into your business facility, all you have to do is fill it with good memories and the people you love.
Set up your desk with picture frames that house precious memories. One look at them already sets the room alight.
Also remember that seeking a refreshing look for your business is not a one time thing. As the years go by, you'll eventually need to evaluate your facility and do it once more. Next time though, you'll already be well prepared.
---