While people may not realize it, furniture is an important part of people's lives. For one, it makes things livable. Sitting on a chair that fits just right. Accommodating guests in a nice sofa and living room area. Resting on a good bed.
It adds a certain comfort to people's lives that they utilize and take for granted. It can also add a design and style that shows off who you are.
Finally, furniture has the capability to upholster itself with memories of your family and friends through the years.
When a piece of furniture breaks or needs fixing, people tend to think that buying new ones is better. However, there are a variety of reasons why furniture restoration is the way to go. For one, it is more cost-efficient and more environmentally friendly.
Finally, it allows you to retain the beacon of memories, and allow it to accumulate even more memories and hand them down.
Furniture restoration may be simple enough to the untrained eye. There are a good number of such businesses that you can reach out to. However, there are certain things that you should consider to ensure you are getting the best furniture restoration company.
What to Look For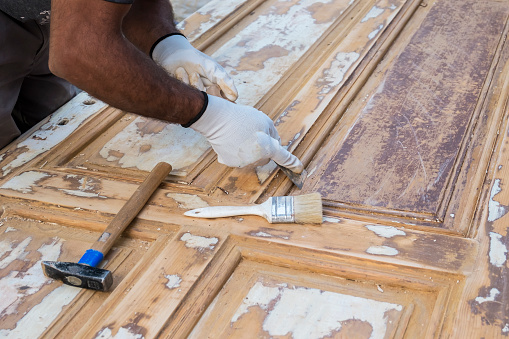 Reputation
Any dealings that you have with any other businesses or companies need to be founded on something. The first that you can look at is the reputation of the company. This is one of the most important things to look for, and can mean the difference between successful or unsuccessful furniture restoration.
You can check out their reputation via various reviews if they have them. You can also try and ask other people's experience or even customer testimonials. If you don't know anyone who has worked with them, you can try asking the company for contact details of people they have worked with before.
This will tell you about the quality of their work and if there are any red flags out there. If most, if not all, customers are satisfied, then chances are you will be too.
In doing this, you are ensuring that when you entrust your furniture into the company's hands, that their work will be of quality and they'll take care of your furniture for you.
Specialties
When people hear "furniture restoration", they think that it is just one set of actions. However, there are actually many services included here. They include fixing broken parts, locating and sourcing missing parts, reupholstery, cleaning, and more.
Thus, it is best to see what the specialties of the furniture restoration company are. If they do reupholstery but not fix parts, this will tell you what they can and can't do.
At the same time, you need to take into consideration how well they restore the furniture. Furniture restoration is all about getting that piece of furniture back to the original condition. This doesn't only apply to function, but also to aesthetic.
Make sure that when they restore, they choose the right fabrics and parts that match the original aesthetic of the furniture.
Experience
Experience is always important when reaching out to another company for their services. If you had to choose between a new furniture restoration company and one that has been doing it for 5 and more years, you may tend to side with the one with the most experience.
While this is good advice, there are certain caveats to this. You need to look at the whole company and the various factors to make an informed decision. These include cost and the company (as some members may be veterans with 10+years of experience).
Cost
Earlier, we said that furniture restoration is much better than buying a new piece of furniture. When you are choosing from various companies though, there can still be discrepancies for the rates of each.
The best thing to do here is to canvas a good number of furniture restoration companies. The minimum would be 3, and you can go all the way up to 5 or even 6.
Lay out what you want them to do exactly. Then, canvas their prices and timeframe. Put it in a list, then compare and contrast. Choose which is the best.
Of course, this isn't as black and white as we lay it out to beat. Nothing really is. It needs to be considered with all the other things on this list.
A company that costs more may have the experience and services that you are looking for. However, with all things equal, why not go with the most affordable one?
Choosing Correctly
We hope that these factors make sense and that they help you choose the best furniture company out there.
You need to remember though that one factor within the list does not tip the scale in any direction. All the factors need to be taken into consideration and weighed per company.
We wish you luck in finding the right restoration company and we hope you find the best furniture restoration company for all your needs.
---
Looking for something else? Check our Blog.